Different Kinds of Wooden Plugs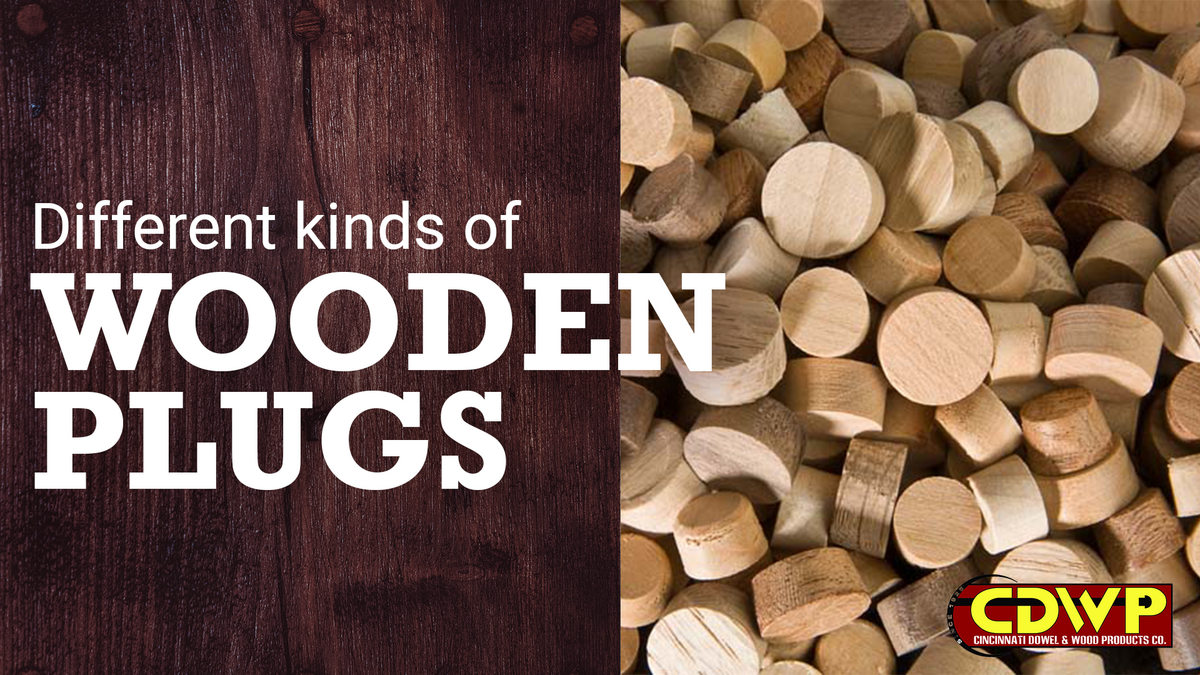 Wooden plugs are a popular choice for furniture makers and woodworkers alike, as they add a unique and natural look to everything from tables to cabinets. When it comes to wooden plugs, there is a wide variety of options available in terms of type, finish, and design.

Different designs such as button top plugs or tapered hardwood flat top buttons are available to add an extra dimension to the furniture. Additionally, some plugs come with pre-drilled holes or screw holes for easy installation. Each plug has a unique purpose and when used by a clever craftsman, they can bring a wood piece to life.

In this article, we will explore various types of wooden plugs and how they can assist your projects.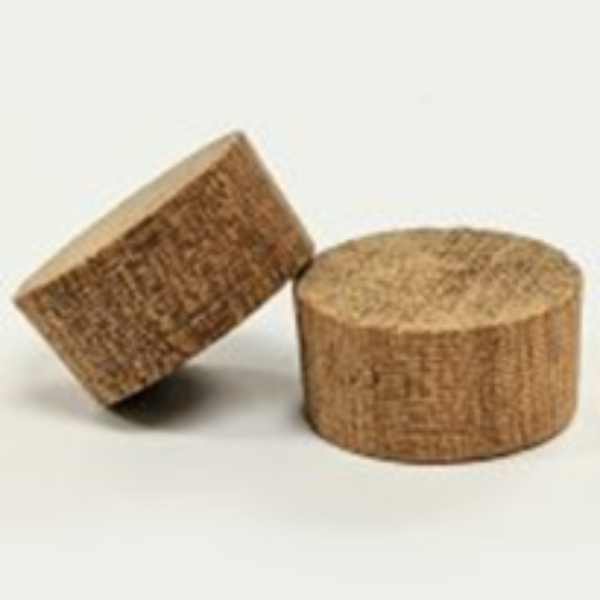 Various Types of Wooden Plugs
Flat Head (End Grain)
Flat-head end grain wooden plugs are commonly used to fill screw or nail holes found in wooden surfaces. Available in different sizes these plugs are perfect for finishing carpentry projects. The flat head design provides a seamless and flush finish.

Made from different woods like birch, cherry, poplar, red oak, maple, and walnut, these plugs offer variety and can match the color of your woodwork. Using flat-head end-grain wooden plugs improves the appearance of your project but also helps protects the attachment points from dust and moisture.

To install the plugs, you can use a mallet or hammer to insert them gently until they are flush with the surface. You can then sand the surface for a smoother finish.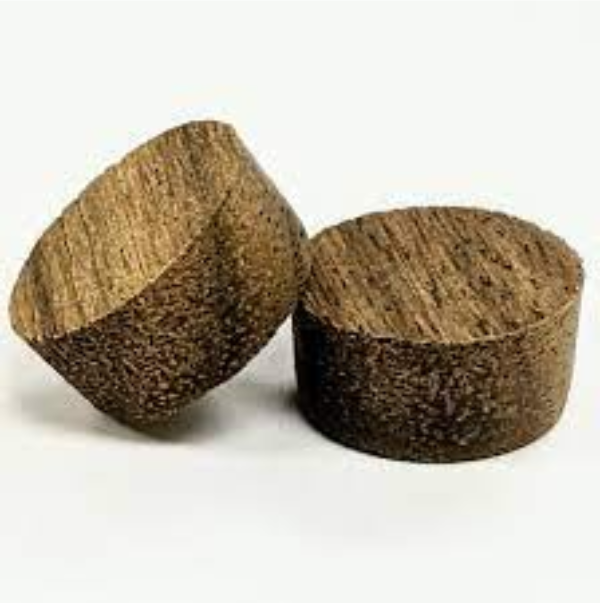 Flat Head (Side Grain)
Flat head side grain (also called face grain) wooden plugs are great for covering up pre-drilled holes in woodwork and providing a seamless finish. They come in a variety of woods, such as white oak, maple, walnut, cherry, and mahogany, to match the grain and color of your project.

Installing these plugs is easy, as they are designed to fit into pre-drilled holes. Simply use a mallet or hammer to gently tap them in until they are flush with the surface of the wood. You can then sand the surface for a smooth finish.

Overall, flat head side grain wooden plugs are a great choice for improving the appearance of your project. With their wide variety of wood options and easy installation, they're a top pick for woodworking enthusiasts.
Round Head
Round Head wooden plugs are another type of wood plug that comes in a variety of sizes and wood types. Our plugs are available in birch, poplar, red oak, maple, walnut, cherry, and mahogany, ensuring that you can find a match for any wood finish.

These decorative plugs are often used to conceal screw holes and add a different finished look to furniture and woodworking projects.

Whether you're an amateur woodworker or a professional furniture maker, our round head wooden plugs will add refinement to any project.
Mushroom Buttons
Mushroom buttons are a great addition to wood plugs and caps when it comes to covering screw holes in wood furniture. They not only serve functional purposes but are also an excellent decorative element. These buttons come in various sizes, materials, and colors, offering different options to users.

There are different types of mushroom buttons available for wood plugs and caps. Wood mushroom buttons are a popular choice among woodworkers who value the natural look of wood. These chair buttons can be made from various types of wood, such as birch, oak, maple, mahogany, and more to match the furniture's color.

They can be sanded, polished, or painted as per your preference. Rubber and plastic mushroom buttons are also available, ideal for outdoor furniture, as they are more durable and weather-resistant than wooden ones.
Floor Plugs
Floor plugs are an essential component in wooden flooring, as they cover the gaps between the floorboards. There are various types of floor plugs available, designed to suit different types of wooden floors.

The most prevalent variety of floor plugs are side grain or end grain. Grafted from side grain of wood, that seamlessly connects. The sides are straight and designed to reduce future movement. After insertion, the plugs should be meticulously sanded and finished leaving a virtually imperceptible integration.

Finishing techniques like staining, varnishing, and oiling can be applied to enhance the look of the plugs and blend them with the surrounding wood. By incorporating the right type of floor plug and finishing technique, wooden flooring can be both functional and aesthetically pleasing.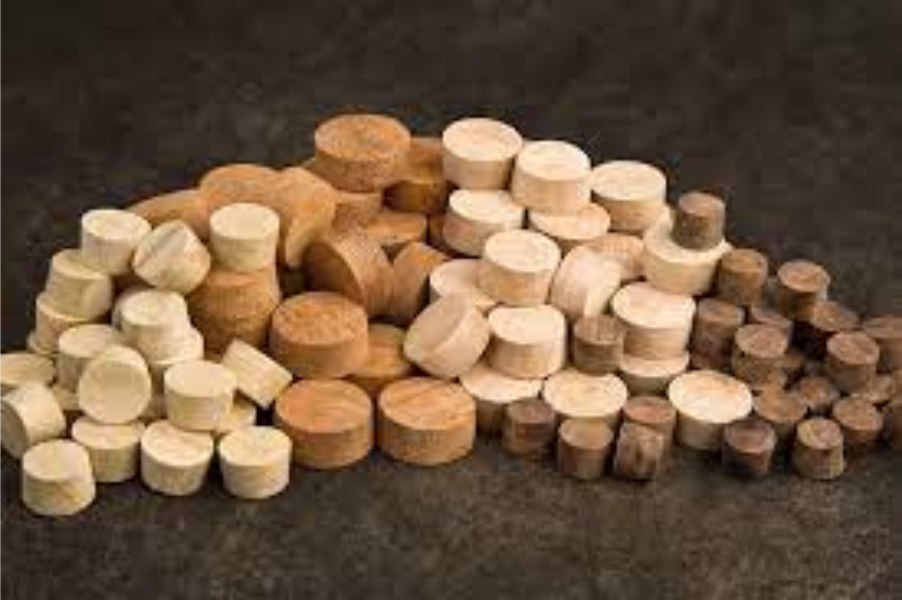 Stair Plugs
Wooden stair plugs are used to fill pre-drilled holes in stair treads and risers. They provide a seamless finish and prevent debris from collecting in the holes. Stair plugs are available in a wide variety of wood types, including red oak, white oak, maple, poplar, walnut, and cherry. Each type of wood has a distinctive grain pattern and colors, making it easy to match the plug to the surrounding woodwork.

Many manufacturers offer pre-finished wooden stair plugs, allowing customers to choose a color that closely matches their stairs. Common finishes include clear, natural, and brown wood. The finish also helps protect the stair plug from moisture and wear.

Wooden stair plugs offer several benefits over other materials because wooden stair plugs are long-lasting and biodegradable. Unlike plastic, wooden stair plugs are reusable, long-lasting, and biodegradable. All our wooden plugs are produced from responsibly harvested lumber, meaning they not only look great but also positively impact the environment.

It is important to select the right size of stair plug to match the pre-drilled holes, ensuring a snug and secure fit. When purchasing wooden stair plugs, customers should measure the diameter of their pre-drilled holes and match them with the corresponding plug size.
Deck Plugs
Deck plugs are an excellent way to cover screw holes and create a polished look for your deck.

Deck plugs come in a wide variety of wood types, adding customization options to complement the deck's style. White oak, mahogany, and red oak are just a few of the many options available. The wood type can be finished with various wood finishes or left natural for a rustic look. Pre-drilled holes make installation easy, and power tools can be used to speed up the process.
Cabinet Plugs
Cabinet plugs are essential for any carpentry project, especially for cabinetry. They are perfect for covering any unsightly holes produced during the construction or assembly process and provide a smooth, refined look to your cabinetry for added aesthetic appeal.

They are made from a variety of wood types and offer customization options for any carpentry project. Understanding the unique features and benefits of each type can lead to a better match for specific user needs.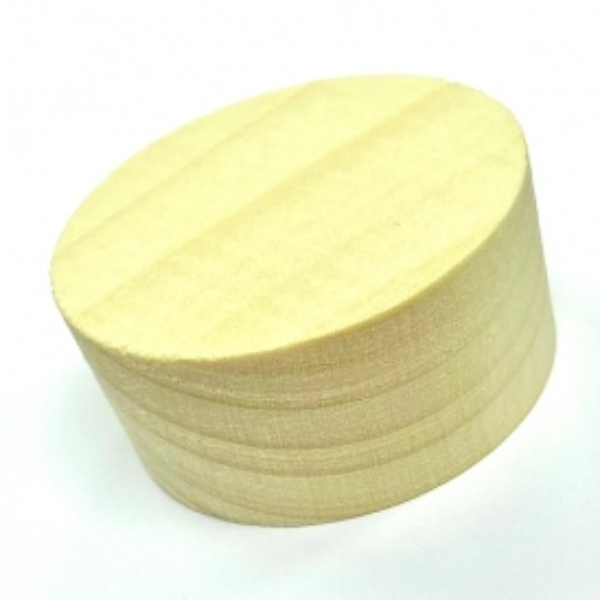 Bungs
Bungs are small pieces of material used to fill holes in wood and other materials. Wood bungs come in different sizes and are used to fill the bung hole in wooden barrels. They are available in a variety of wood types. Poplar and white oak are the most common.

They help keep the contents of barrels fresh and free from contaminants due to the near-perfect seal it makes with the barrel material.
Wooden Plugs from Cincinnati Dowel


Cincinnati Dowel has been providing high-quality wooden plugs for almost a century. We specialize in producing a wide variety of wooden plugs that are perfect for any woodworking project. Whether you need wooden plugs for screw holes or to cover up pocket holes, Cincinnati Dowel has you covered.

Our wooden plugs are made from a variety of high-quality wood types and each type of wood offers a different grain pattern and finish, allowing you to choose the perfect match for your project.

If you are looking for top-quality wood plugs that meet your needs, then click here to shop Cincinnati Dowel today!

For more information on wood dowels, follow Cincinnati Dowel on Facebook, LinkedIn, Pinterest, Instagram, and Twitter.

Also, if you are satisfied with your Cincinnati Dowel experience, leave us a five-star review here!